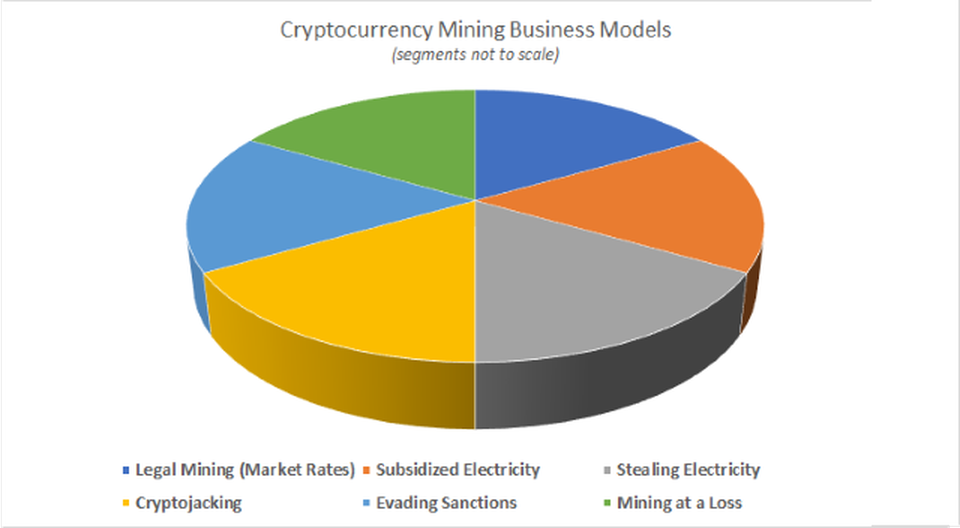 Crypto miners are rewarded for processing transactions. All you need to be a miner is a rack of high-speed computers and access to electricity. Of course, a lot has been said about the latter: the consumption of energy needed to run the software and hardware on a large scale is astronomical in cost. In fact, some mining outfits are consuming the same amount of electricity as a small country. That's why so many are based in the cold wastes of the Arctic Circle where lower temperatures keep the machines cooler and therefore reduce energy consumption.
When mining started, people could do it on machines at home, but that didn't last long. The potential to make big bucks meant that competition increased and miners purchased massively powerful computers while scaling up their operations to remain profitable.
Then bitcoin crashed and this reduced the ability of miners to make a profit, and legal crypto mining using electricity at market rates is now becoming increasingly unfeasible, even in those places like Iceland.
Mining can still be profitable
But there are still opportunities for profitable mining. One way is to find subsidised electricity. For example, In Washington State, hydroelectric power generates far more energy than locals can consume, thus attracting a booming business in crypto mining. Instead of exporting it to other states, miners could buy it. This is a legal model. The other forms of profitable mining are certainly not.
The first of the illegal mining options is to steal electricity. That is what used to happen in the early days, but energy companies have got wise to that and there have been some prosecutions for theft in China and the USA.
Another mining model is cryptojacking. This has outperformed ransomware as a form of obtaining crypto. How does it work? A hacker introduces crypto mining software onto a target victim's computer without their knowledge, thus generating crypto for the hacker while stealing processor cycles and electricity from the victim.
And there we have the current crypto mining scenario. As Jason Bloomberg writes at Forbes: "For all the crypto fanatics out there, therefore, there is a reason to take heart — there's no way crypto values will ever drop far enough for mining to cease. Organized crime wouldn't let that happen."